Collecting LILY OF THE VALLEY Handkerchiefs Hankies
For generations it has been a tradition for brides to carry a pretty handkerchief on their wedding day.
Lily of the Valley flowers have also long been associated with weddings and new beginnings.
WEDDING HANDKERCHIEFS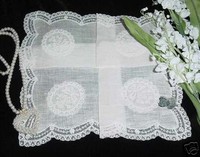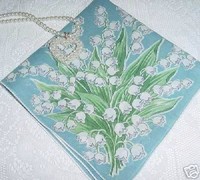 BLUE FOR BRIDES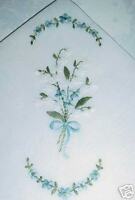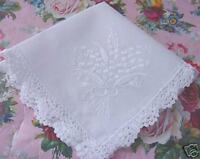 EMBROIDERED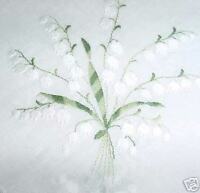 According to the book, The Language of Flowers,"It is not surprising that the Lily of The Valley symbolizes the Return To Happiness, for it is the sweetest flower imaginable. With it's dainty white bells and unmistakable green scent it is said to lure the Nightingale from his nest and lead him to his mate. It is the symbol of May Day and was known as May Lily and Our Lady's tears because it grew from the tears shed by the Virgin Mary at the Cross. The flowers were grown by monks for decorating the alter and were called Ladder to Heaven because the miniature flower bells grow like steps up from the stem."
You Won't See RED Lily HandkerchiefS Too Often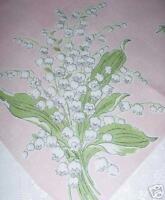 PRETTY IN PINK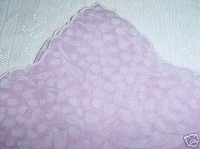 LAVENDERS


The young Shulamite bride in the Bible's Book of Love, Song of Solomon, says of herself," I am the Roses of Sharon and the Lily of the Valleys." The Lily of the Valley are especially popular in France and are found as a wild woodland plant throughout Europe. They were not considered a garden plant until the 16th century. They have been considered to bring good luck since the Renaissance.

IN NAVY BLUE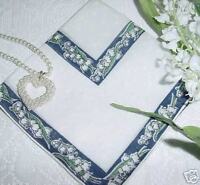 GREY SWIRLS ~ PRETTY!


FOR VALENTINES DAY


DAINTY YELLOW

Click to view:
LILY OF THE VALLEY HANDKERCHIEFS HANKIES

MONOGRAMMED HANKIES HANDKERCHIEFS

WEDDING AND BRIDAL HANDKERCHIEFS HANKIES

SPECIAL OCCASION HANKIES HANDKERCHIEFS

VINTAGE & PRINT HANDKERCHIEFS HANKIES

EMBROIDERED APPLIQUED ORGANZA HANDKERCHIEFS HANKIES

CHRISTMAS & HOLIDAY & SEASONAL HANKIES HANDKERCHIEFS